Automotive Locksmith in Birmingham AL
FAST RESPONSE AUTO LOCKSMITH IN BIRMINGHAM AL
Need an Automotive locksmith in Birmingham, Alabama? Around the Clock automotive locksmith has got you covered! We have been helping our clients overcome their car key troubles over the years, and we can help you.
Our auto locksmith experts are not only caring and friendly but also one of the best in Birmingham. We are experts in retrieving locked keys in the trunk, car key replacements, key replacements, and so much more. We are similarly skilled at programming transponder key and programming and replacing key fobs.
Above all, our quick response and efficiency set us some league above other auto locksmith companies in Birmingham, Alabama.
Our solutions and services to car owners in Birmingham Alabama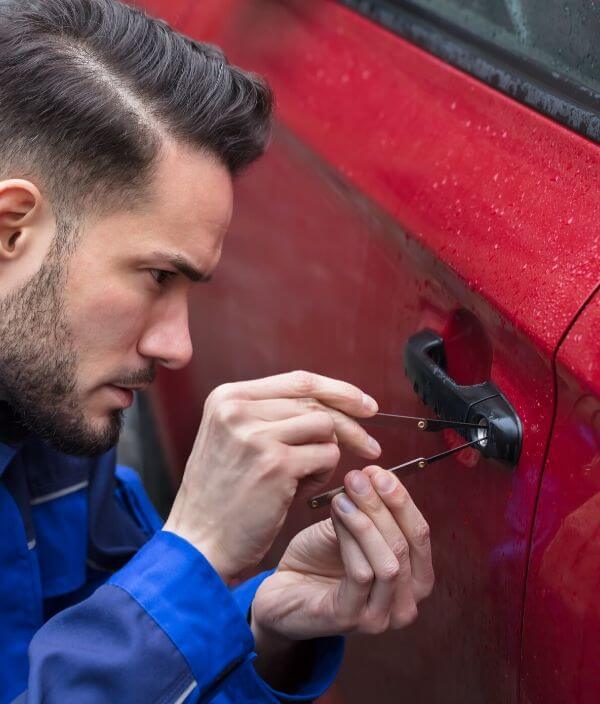 Car Lockouts
Car lockouts are frustrating as they are frightening. Imagine such happening at night! The worst part is that you can hardly remember where you left the keys. Perhaps the key is lost or in your car. Either way, we've got you. Around the Clock Locksmith would not only get you back into your vehicle safely and quickly but also at a minimal overall cost. Car lockouts are one of the most prevalent issues car owners face – not only in Birmingham but globally. And that's not all. Car lockouts date back in time. Unlike then, using the "hanger through the window" trick is no longer effective. Technologies are evolving, and that also applies to the lock systems in your vehicles. If you're thinking of using the "hanger through the window" trick, don't. It would only cause more harm than good, and it also means more of your dollars will go into repair bills. On the other hand, we have a better solution for your car lockout problems.
First, we know how to unlock various vehicle models, be it manual, automatic, or electric. As such, you can trust us for a speedy and versatile solution to your car lockout troubles.
Second, our car lockout services are available all day long – just as our name suggests, around the clock. In the end, our specialized tools and highly-skilled technicians will ensure your safety and that of your car.
Ignition Repair and Key Extraction
Ignition complications are even more frustrating than car lockouts – and for obvious reasons. Without ignition, your vehicle can't start. What's worse is your key breaking off while inside the ignition lock. If that happens, you don't need to worry. Our professionals can be of great help. We understand the importance and nature of your ignition lock. For that reason, we will carefully remove the broken key from the ignition. We do that to avoid any more damage to your lock or ignition. However, if your car's ignition is damaged beyond repair, we are equally skilled at rebuilding ignitions. Our team is specially trained at rebuilding and installing ignition systems. More importantly, we maintain the same designs for your previous key and thus making it comfortable for you.
Key Duplication and Replacement
Thanks to our smart and modern key making machine, we duplicate and replace a wide range of car keys. Here are the popular cars under our coverage:
Domestic cars – Ford, GM, and Chrysler
Asian cars – Toyota, Hyundai, Kia, Nissan, and Honda
European cars – BMW, Mercedes, Jaguar, VW, Audi, and other exotic cars
The most beautiful part is that duplicating your keys with us is relatively cheaper than with your vehicle dealers. Also, ours is faster. Once you place a call to us, we will meet you and create a key for you right at the spot. Lastly, we can cover both emergency and non-emergency car key troubles. Rather than staying troubled or towing your vehicles away, we can help replace your car key on-site. So, if you love to duplicate your existing car keys or generate new car keys, look no further than Around the Clock Locksmith.
Commercial/business Vehicles
We offer auto locksmith services to fleets just as we do singular cars. In essence, if you run a business where you often require a fleet of vehicles, let us assist you. Be it a rekeying, lockout, or ignition service; you can always trust us for smooth work. We have the knowledge, machines, and personnel to handle your auto lock locksmith needs. More importantly, our commercial services are very affordable.
Key Remote Programming
Consulting dealership for programming your cars is usually expensive. A lot of car owners also read their car's manual and pull off a few DIYs. Nevertheless, the best option for programming your key is hiring an automotive locksmith. It is affordable, and you will get professional key programming. Besides, key programming requires some rigorous key cutting only experts with special training can handle. Fortunately, we understand the comfort and enhanced security that comes with electronic keys, including chips and transponder keys. That is not all; we are adept at programming these types of keys too. Our technicians are specially trained to program your car to respond to transponder keys. We do that in simple and quick steps. Moreover, ours is quicker and more effective than most automotive locksmiths in Birmingham – within a few minutes, your transponder key will be ready for use. In addition to transponder keys, we can equally deal with other electronic keys such as:
Proximity Push-starts Keys
Unlike transponder keys, we can program proximity keys to start the engine and open and lock your vehicle door.
Car-specific High-security Keys
We are one of the few auto locksmith companies in Birmingham, Alabama that have the tools (high-security key generator and specialty code readers) required to fix different cars. More importantly, we have the experience and technicians to ensure you get top-notch high-security car key services. Overall, we understand how rampant car theft is currently nationwide. As a result, we always update our knowledge base to match global safety trends. Moreover, fixing your car lock issues helps you to get on with your routine quickly. So, let's help you to save time and energy. Reach out to us (via email or telephone) to provide you with effective on-site solutions to your car lock needs.
EMERGENCY SERVICE
Ready to assist all kinds of locksmith services in any kind of emergency situation. Let our emergency locksmiths take a look at your lock problem. 
Satisfaction Guaranteed
We believe in customer satisfaction and always provide the best result. Our staff is equipped with the best tools and does the work perfectly. 
Free Consultations
For all your locksmithing issues, just give us a call and we will provide you the best and free consultation and quote according to your requirements and budget
" Prompt service and great results, the team is highly professional and have the skills to do the job perfectly. Highly recommended. "
" My kitchen door lock was jammed and when I tried to take the key out, it broke and got snapped in the lock. I called Around the Clock Locksmith and they were at my place within an hour and sorted everything quickly. I will recommend them. "
Head Office
1230 2nd Ave N STE 7, Birmingham, AL 35203