Residential Locksmith in Birmingham AL
ATC LOCKSMITH, A PROVIDER OF EXCELLENT RESIDENTIAL LOCKSMITH SERVICES IN BIRMINGHAM
There is no place like home – and rightly so. As a result, your home needs to be safe to protect your loved ones and belongings. However, a faulty or bad lock can compromise your safety. And when that happens, you will need a locksmith!
Around the Clock locksmith is one of many residential locksmith services in Birmingham, Alabama. Our services extend to homes and offices in Birmingham and surrounding areas within the 50-mile radius.
Whether you need to change high security or simple locks, install new locks, and safes, our certified technicians will handle it for you.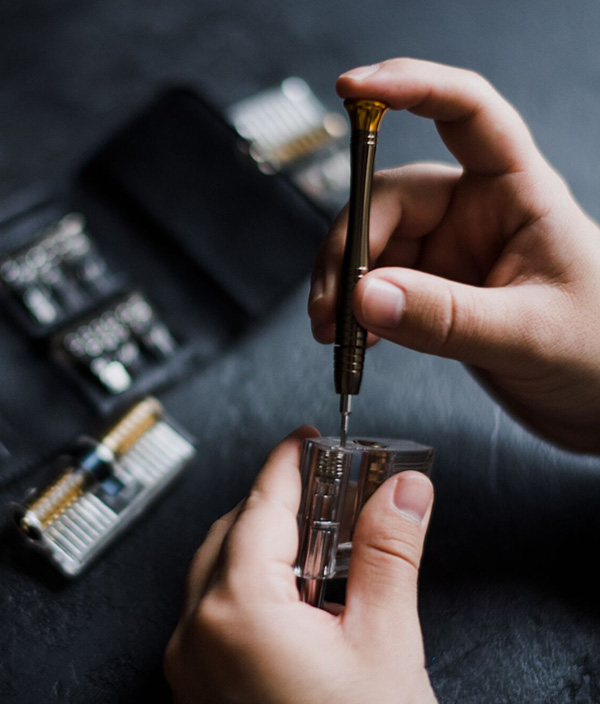 Our team of locksmiths is particularly versed in changing or rekeying locks, and lock repairs. That is not all; we are equally adept in installing new locks and other safety technologies for homes.
In essence, we are a one-stop venture at setting up your locks and ultimately ensuring your safety. We know just the solution to fix those locks.
Our solutions and services for homeowners in Birmingham
Home Lockouts
It can be frustrating when lockouts happen. Perhaps, it is explicable when you lost your door key. What if you have the key and the door refuses to open? Don't break a sweat, we've got you! Regardless of the reasons for the lockout situation, Around the Clock locksmith has an efficient way out. Our technicians are equipped with up-to-date equipment and detailed training to resolve lockout issues. We provide efficient emergency lockout services for residential homes and the assurance that we can unlock all kinds of locks available, including vintage and high-security electronic locks.
Changing or Rekeying of Locks
Whether you call it changing or rekeying of locks, locks remain essential to home security. Hence, it is one of many cornerstones for our residential services. Why?
Rekeying ensures safety for newcomers as well as long-dwellers. It is particularly vital when you're moving to a new house (i.e., the newcomer). You don't want the previous owners coming around with their old keys to pry into your affairs. Do you? On the other hand, if you've lived in that particular house for years (i.e., long-dwellers), you equally need to change keys to restrict entries to your home. Fortunately, we have the answer. And luckily, you don't have to buy new locks and keys. Our technicians alter the pinning system in your old lock and provide you with new keys. That way, the old keys to your lock will now be useless: they can no longer open your door.
Lock Repairs
If your locks are faulty and need to fix them or buy new ones, we can be of service. Home Services such as lock repairs need urgent attention and quick response. Thankfully, we are quick just as we are efficient. At the slightest request for lock repairs, you will have us at your door with the state of the art lock repair tools. Most importantly, we are not rebuffed by the complexities of your locks. And that is thanks to our mastering of various locks (such as deadbolts, digital locks, mechanical locks, electronic locks, smart locks, and more).
Installation of New Locks
Frankly, there would be times when rekeying and repairing lock won't just do. This might happen when you have been rekeying and repairing your locks over a long time. In such a situation, the way out to ensure safety is to install a new lock. However, it is best to engage a professional like Around the Clock Locksmith to install your locks. Why? First, we know the best lock to handle any situation. Besides, we only require little time and affordable cost to do it for you. Secondly, our professionals are certified to handle lock installation. Also, we have the right tools to make installation of lock seamless, reliable, and faster. Lastly, we offer one of the best residential locksmith services in Birmingham. So, you can trust that our services are reliable.
Home Safe Unlock or Combination Change
We understand that you might have a safety locker at home. And that's a good thing because it keeps vital documents and other cherished materials safe. Nevertheless, safety boxes are very private. As such, you can only trust a reliable locksmith to assist you in handling it. As earlier stated, we are a reliable team of locksmiths that deals with all thing lock. Our knowledge base extends to doors, windows, and even safety boxes. Simply put, look no further than us to assist in the repair, unlocking, or changing the combination of your safety box. Now, it is true that other locksmith companies in Birmingham offer almost all the residential services that we stated earlier. Even with that, you should choose us.
Why You Should Choose Us
Our team of technicians has undergone special training to ensure that we deliver the best solutions for you. And that's not all; we similarly have the latest technologies to improve your home's security. The most beautiful part is that we don't rest on our laurels: we are always learning and checking home services trends globally to make our work more effective.
All of our professionals have background studies in security. More importantly, they are all licensed and insured to carry out residential locksmith services in Birmingham.
Our team is available all day round the week to ensure that your home and properties remain safe. As soon as you place a call to us, we are always on hand to deliver. Moreover, our locksmiths are always with their tools to attend urgent on-site residential services. In other words, you can always count on us. Overall, we care about our clients and their security. We believe that their safety means excellent work on our parts. We want you also to join us today. Let us work together to fix your locks and safety boxes. So, reach out to us (via email or telephone), and let's provide lasting safety solutions to your home security with our top-notch residential locksmith services.
EMERGENCY SERVICE
Ready to assist all kinds of locksmith services in any kind of emergency situation. Let our emergency locksmiths take a look at your lock problem. 
Satisfaction Guaranteed
We believe in customer satisfaction and always provide the best result. Our staff is equipped with the best tools and does the work perfectly. 
Free Consultations
For all your locksmithing issues, just give us a call and we will provide you the best and free consultation and quote according to your requirements and budget
" Prompt service and great results, the team is highly professional and have the skills to do the job perfectly. Highly recommended. "
" My kitchen door lock was jammed and when I tried to take the key out, it broke and got snapped in the lock. I called Around the Clock Locksmith and they were at my place within an hour and sorted everything quickly. I will recommend them. "
Head Office
1230 2nd Ave N STE 7, Birmingham, AL 35203